Ahead of Saturday's governorship election in Nigeria,Nigerians in UK have come out to campaign for APC gubernatorial aspirant in Lagos,Ambode.
Governorship election in Lagos is expected to be a tightly contested one between PDP candidate Jimi Agbaje and his APC counterpart Ambode.
With Oba of Lagos recent comment,many pundits have said Jimi Agbaje is likely to win as Igbos constitute a greater percentage of Lagos population.However,Ambode has criticised Oba's recent comment.
Do you still think Ambode will win the election?
See photos below...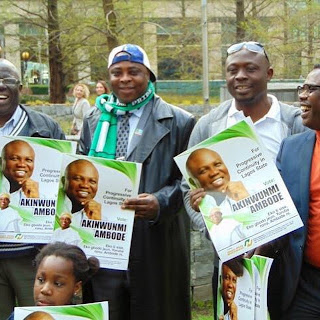 ">